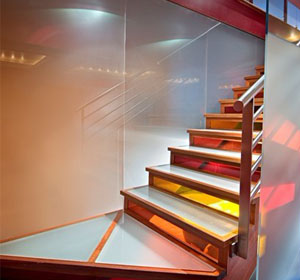 Glass Door Glass Stairs
Our tempered glass panels can be utilized to create unique, contemporary elevator design. Glass elevator interiors are easy to replace, clean, and maintain.
Our toughened glass doors can be designed with more personal touch.

Glass stair treads and railings are favored by architects and designers. The glass stair treads opens the space and allows light passing through. The glass railings are appealing to stores that visitors can view.

The different floors through the glass. The glass railings are popular for outdoor use on decks and around swimming pools providing the unrestricted views.

The glass railing panels can be tempered or laminated to comply with applicable building codes and regulations.