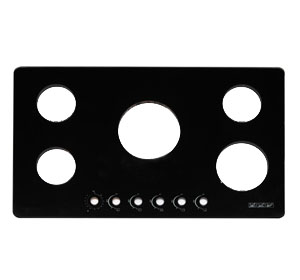 Five Burner Gas Stove Glass
Our company has a powerful technology, advanced equipments, completely developed management and widely scatered services. Five burner gas cookers are used in many countries.Our customers are mainly in Latin America, Pakistan, Southeast Asia and other countries and regions.
FEATURE:
Screen printing tempered glass panel
stable quality
5 times harder than ordinary annealed glass
It withstands abrupt change of temperature. For example, a piece of 5mm tolerate the temperature variations within the range of 200°C。
elegant appearance
Durable, wear-proof, moisture-resistant easily to clean
Tempered working: flat tempered glass
Silkscreen printed:black
CNC automatic cutting machines cut
Holes finished with CNC water cutting JAT
Edge work: Round edge and polished
Corner work: Polished corner

APPLICATIONS:
Gas stove,gas cooker,gas hobs,kitchen oven,kitchen hob,kitchen stove,gas burner ,kitchen application.

SEPIFICATION:
Size: 720 x 525x 8mm
Five burner cooktop tempered glass
ODM/OEM orders are welcome
Customer's designs are available
PACKAGING DETAIL:
bubble bags package each glass, 6 pieces one CTN, outside with wooden crate.

NOTES:
Thickness:8mm,10mm.Various colors and patterns (may be customized) e.g. red ,green.etc.
To avoid sudden cold and suddenly hot.
To avoid scratching the surface of glass with sharp metal containers.
To avoid making heat congregation, Timely clean up the debris in the burners.