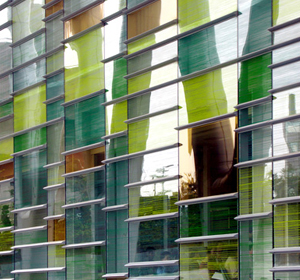 Colored Glazing Glass
silkscreen glass(Enameled Glass) is made by using ceramic frit to print graphics through a special screen onto float glass. Melt colorant into glass surface in tempering furnaces and subsequently a silkscreen glass product with qualities of non-fading and multi-pattern is manufactured.
FEATURES :
Various color and graphic choices
Silkscreen glass offers variety in color and graphic which could also be custom-made to meet designing needs as well as create particularity of space design.

Durable, wear-proof, moisture-resistant
Silkscreen glass has higher durability, scratch-proof, moisture-resistant than ordinary color printed glass.

Subduing westerly or direct sunlight
The sequentially partial printing of silkscreen glass subdues westerly of direct sunlight.

Anti-glare
Partial printing of silkscreen glass reduces glare.

Safety
Silkscreen glass is tempered to improve safety.

SPECIFICATION:
Thickness: 4-12mm
Max. size: 2440mm X 3660mm
Min. size: 300mm x300mm
The other thicknesses and sizes may be available upon request.

APPLICATION:
Architecture external wall, Anti-slip indoor floor and staircase, Window glass for shops, houses and schools, Graphic glass for interior partition, Auto glass, electric glass, Furniture and art glass.

PACKAGING DETAIL:
wooden case

NOTES:
All enameled glass products are tempered or heat-strengthened, therefore they cannot be further cut or abraded in any way.
The decoration pattern is single sided when used on architectural walls or windows, it is recommended to keep the enameled side inward.