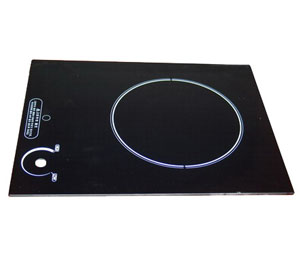 Borosilicate Tempered Glass
Great heat resistance performance, stable chemical property,High light transmission,Various thicknesses for you to choose.
APPLICATIONS:
Household electrical appliance(panel for oven and fireplace, gas stove,cooktop microwave tray etc.)
Environmental engineering and chemical engineering(lining layer of repellence, autoclave of chemical reaction and safety spectacles)
Lighting(spotlight and protective glass for jumbo power of floodlight)
Safety protection(bullet proof glass)

SEPIFICATION:
Thickness(mm): 2—20
Density(g/cm3)(at25℃): 2.23±0.02
Expansion coefficient(α)(200-300℃): 3.3±01×10-6
Softening point(℃): 820±10
Maximum working temperature(℃): ≤450
Light transmission: 92(thickness≤4mm), 91%(thickness≥5mm)

PROCESSING:
Cutting, edge processing, drilling, coating, toughening treatment, printing etc.